Iconic car designer hooks up with Nirve to give wings to an exclusive line of cruiser bicycles
No matter how old you are, George Barris' car designs are among the most recognized elements of our popular culture. Batman and his Batmobile. Herman at the wheel of the Munster Koach. The Flintstones' prehistoric foot-powered coupe, not to mention the Monkees-Mobile, General Lee from the Dukes of Hazzard, Kitt from Knight Rider and the Beverly Hillbillies' jalopy were all born in Barris' Kustom creative brain.
And while leaving a permanent mark on the visual iconography of cars and American television and film, Barris also sharpened his customizing chops on two-wheel whips.
"They were too generic," said Barris about the bikes of his youth. "What I did with cars, I did with bicycles."
The mark Barris left on bicycles involved bringing hot rod designs to the staid look and feel of bicycles of the '60s and '70s. Teaming up Iverson bicycles with Stelber Industries, Barris introduced bright paint, banana seats, stick shifters, drag chutes with rip cords and his patented mag wheels.
"We created draggers and choppers and people wanted them, that's why they licensed me and our designs," Barris says. "They weren't just plain bicycles for transportation, they became a fun piece and a hobby."
The first mag wheels were made out of steel and weighed several pounds, making them look fast and tough but impossibly impractical for a bike. His patented wheels were made of an alloy that was much lighter and more practical for use on a bicycle.
By today's standards, Barris' early bicycle designs and accessories — especially the mag wheels — are passe. But back in the day, they created excitement in the bicycle industry, not just for their radical look, but for the buzz they created and the surge in sales that resulted.
"What I did with cars,
I did with bicycles."
Barris charged hard into well into his 80s. U Prior to his death in 2015, he had teamed up with Nirve Sports to create a line of Kustom Kruiser Bikes inspired by his popular Kustom Kars. The popular Barris Kustoms Batt Kruiser is black with red pinstriping, flames and bat-like fender extensions on the back, evoking Batmobile color scheme and styling. The Galaxie frame borrows from the elegant styling and righteous paint job of his two-time America's Most Beautiful Roadster award winner, Ala Kart. Others include the Nirve Dart and Flames.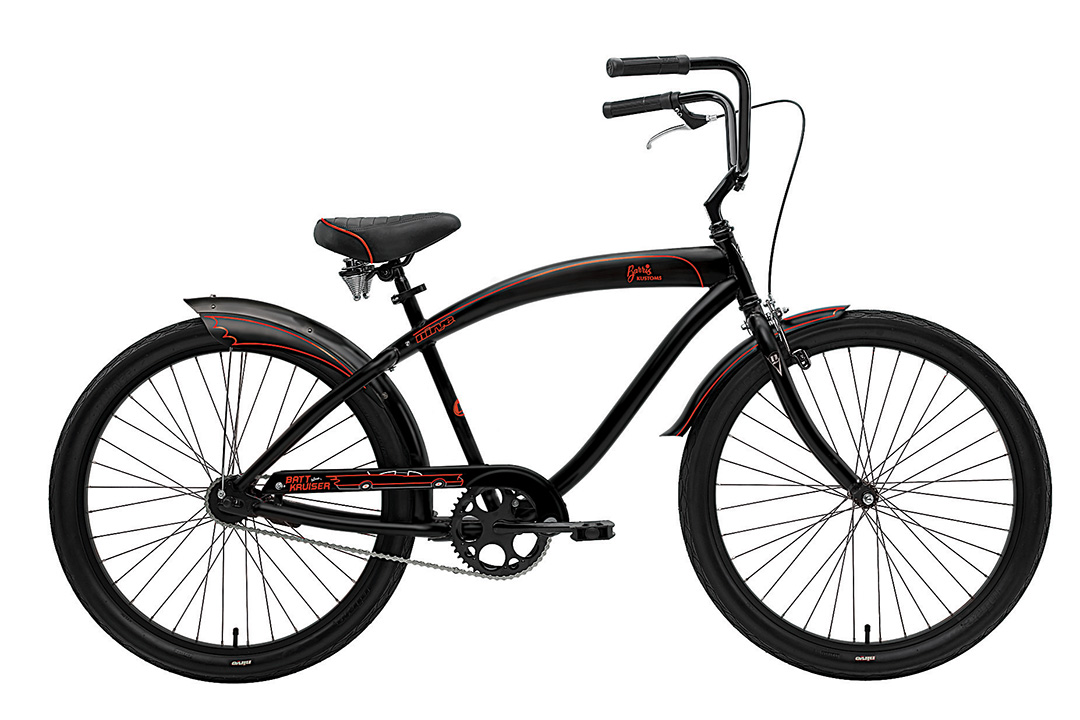 Judging from who's riding these Barris-designed bikes, they are a hit. Adam West rips around Hollywood and location shoots on his Batt Kruiser and Bo Derek is fond of her Ala Kart-inspired Nirve cruiser. And Peter Fonda tools around on his Flamer, notes Barris.
"Bikes are a big part of the Hollywood culture," Barris explained. "Stars like riding them around the sound stages and between studios where they're shooting."
For his part, Barris and his creative posse would often be found riding out of his North Hollywood shop for lunch on a fleet of cruisers kept at the ready. "It's part of our dedication to having fun," Barris declared.