Cruising in Chicago is a family affair for these riders
Story & Photos by JOHN GREENFIELD
Salsa music blasts from a sound system trailer with a big Puerto Rican flag attached, pulled by a guy in a traditional straw hat on a classic yellow Schwinn cruiser. Behind him ride a hundred men, women and kids wearing matching red T-shirts, blue shorts and white sneakers, the colors of the flag.
Most of them are rocking vintage Schwinns with gleaming chrome fenders, white-wall balloon tires, gas tanks, and springer forks. Many are decked out with rear-view mirrors, air horns, fox tails and small U.S., Puerto Rican and Chicago flags. It's the Chicago Cruisers bicycle club, pedaling downtown to the Puerto Rican Day Parade on a hot June morning.
The club gathers every other Sunday during the summer in Humboldt Park, Chicago's Puerto Rican community, to show off their cycles and parade around the neighborhood or take excursions to the lakefront or the Loop.
"We have three goals," says Luis Mercado, a mental health counselor who founded the club in 2000. "Ride beautiful bikes, build friendships and enjoy the sights of our wonderful city."
"Schwinn cruisers are a cultural thing for Puerto Ricans," explains Mercado. "It goes way back to when we were kids." He says about half the towns on the island, a U.S. territory, have bike clubs. Similar clubs have formed in mainland cities such as New York and Cleveland, but Mercado says the Chicago Cruisers is the biggest.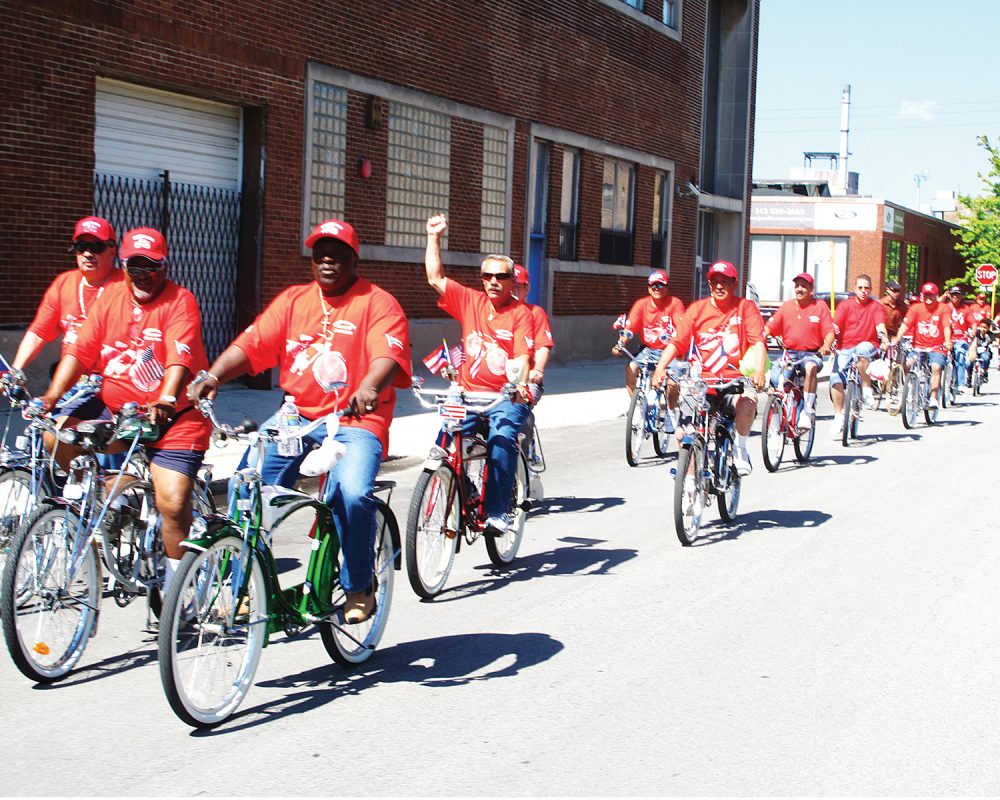 Although most of the members are Puerto Rican, you don't have to be a boricua to roll with this family-oriented club.
"Everyone is welcome as long as you have an old-fashioned bike," says Mercado. "And as long as you are a good person – no gangbangers."
Cigar smoke wafts in the air as the mass of riders makes its way southeast toward the Sears Tower. Motorists beep their horns in greeting and pedestrians do a double take, then smile and wave as hey see the huge group.
"Cruising is a good, healthy activity that keeps families together," says Angel Barcero, a school custodian riding a chrome-framed Phantom. His son, Juan, currently serving in Iraq, used to ride with the club as well. "It would be nice if every family did this."
The Cruisers arrive at the parade staging area on Columbus Drive and set up their bikes in a line along the curb so spectators can check them out. On a nearby float, musicians are playing Puerto Rican folk music on conga, guiro, guitar and cuatro, the eight-string lute that's the national instrument.
Holt Ellis, standing near his candy-green Schwinn, says that although he's African-American, not Puerto Rican, Luis Mercado still invited him to join the club when he spotted him riding around Humboldt Park.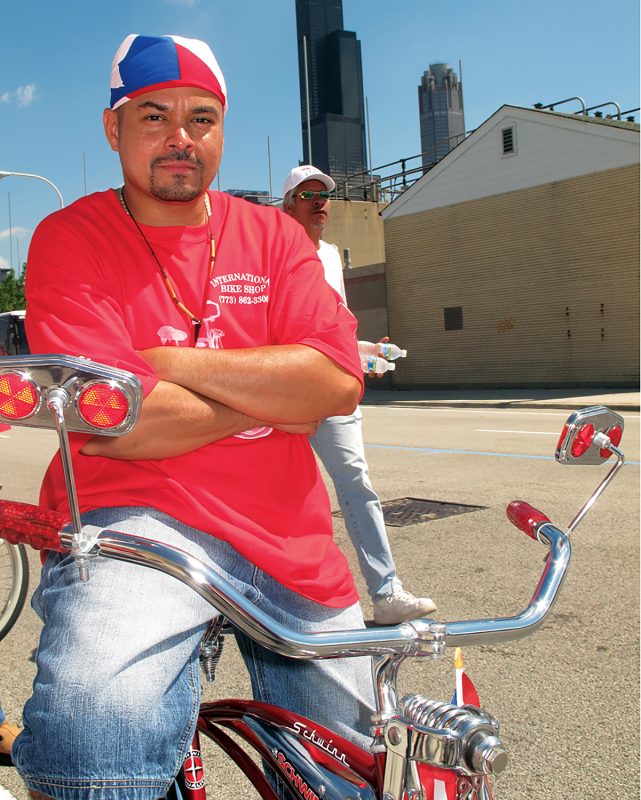 "The Chicago Cruisers are most definitely welcoming to all races and nationalities," he says.
Asked why the Schwinn cruiser resonates with Puerto Ricans, he says, "Latinos and African-Americans, we all came up poor. Cruisers are accessible because you can buy one second-hand or piece it together and customize it to make it your own. They've become a Latino icon."
Borinquen Unidos, another, smaller Puerto Rican club that rides souped- up adult tricycles, has joined up with the Chicago Cruisers for the ride. Hanging out by his ride, Juan Rosado says he got into three-wheelers because they're unique and they give teens something to do besides getting into trouble. "They're also good for kids with disabilities who can't ride regular bikes," he says.
After the factory closed in 1982, lowrider bicycles eclipsed the Schwinn cruisers but Betzy says these timeless bikes are coming back into style with Latino youth. "There's been so many fads and trends and phases, but the classic Schwinn cruiser still remains."
NEED TO UPDATE Chicago Cruisers rides leave from Casa Puertorriquena, 1237 N. California Ave., every other Sunday, from mid-May to mid-September. Call Luis Mercado at 312-671-0654 for more info.